Key considerations to integrate HIV and mental health interventions
Submitted by Edie -
23 December 2022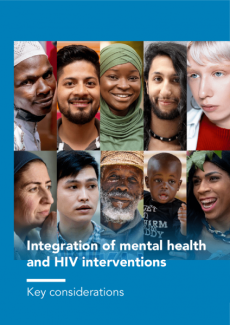 A new publication by UNAIDS and the World Health Organization (WHO) emphasizes the importance of integrating HIV and mental health services and other interventions, including linkages to social protection services, for people living with HIV and other vulnerable populations.
Mental health conditions increase the risk of HIV infection, and people living with HIV have an increased risk of mental health conditions, which are associated with lower retention in HIV care, increased risk behaviours and lower engagement with HIV prevention.
Furthermore, despite an increasing body of evidence showing that effective methods of prevention, screening and diagnosis of, and treatments for, common mental health conditions, including depression and anxiety, exist and can be implemented in low- and middle-income countries, services for mental health, neurological and substance use conditions are often not integrated into packages of essential services and care, including for HIV.
This new publication stresses that the AIDS epidemic cannot end without addressing the mental health of people living with, at risk of or affected by HIV, ensuring equitable access to HIV services for people with mental health issues and conditions and achieving universal health coverage.