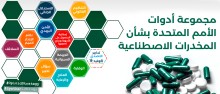 The United Nations Synthetic Drug Toolkit supports the international community in implementing comprehensive response measures to address the synthetic drug problem.
The toolkit was developed in response to Commission on Narcotic Drugs resolutions 8/61 (2018) and4/62 (2019), which called upon the United Nations Office on Drugs and Crime, the World Health Organization, the International Narcotics Control Board and the international community to develop new and innovative approaches to address the international threats posed by the non-medical use of synthetic drugs. 
The Toolkit is a one-stop shop coordinated by the opioid strategy of UNODC and brings together a wide range of guidance and resources from a variety of specialized agencies throughout the United Nations system.
Designed for use by practitioners and policymakers in the areas of health, law enforcement, forensic evidence and research, the toolkit contains more than 290 practical resources and tools.
The content of the toolkit is organized into modules dealing with various topics such as forensic evidence, postal security, access to medicines, legal approaches, treatment and prevention, and precursor control. New modules, tools and resources are being added to the toolkit, and additions are ongoing to keep the toolkit abreast of developments, useful and relevant.
UNODC developed the United Nations Synthetic Drug Toolkit in collaboration with the World Health Organization (WHO), the International Narcotics Control Board (INCC), the Universal Postal Union (UPU) and the World Customs Organization (WCO).
* The tools and resources included in the United Nations Synthetic Drug Toolkit are provided by our contributing partners who are responsible for the content and availability in other languages, and these tools and resources are the property of the partners. Tools and resources are included in English, if not available in other languages.
.