Community Partnerships to Curb Drug and Substance Abuse
Submitted by Enrico Caja -
25 July 2023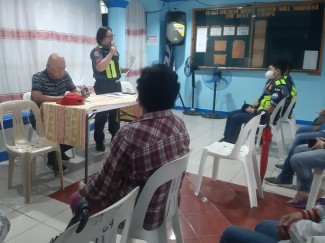 In support of the International Day Against Drug Abuse and Illicit Trafficking 2023, a community drug abuse council in Baguio conducted a dialogue with the Police and members of the community. The objective is to further raise awareness on drug abuse concerns and enhance interaction between the law enforcement sector and the community. Local community initiatives are crucial in addressing the drug abuse menace. This provides an opportunity not only to share information but to also address concerns that the community may have but are unable to relate them. These would include, access to treatment for those who may be in need of such services, information on the common signs of drug and substance abuse as well as presence of illegal sources of drugs in the community amongst others.
Sustaining community involvement is crucial in drug prevention programs. The success of such activities may also depend on the involvement of the community in designing and in its implementation. Building community ownership is important in making people aware that drug abuse not only a law enforcement issue alone but ieveryones concern. 
Other Local Drug Abuse Councils may consider the following;
a) Partnering with schools and other institutions who can provide not only a venue but also can provide resource persons;
b) Seeking support from the City Anti Drug Abuse Council who can provide needed funding;
c) Linking with the private sector including local businesses who can sponsor such events;
d) Properly documenting the event and conducting a post evaluation. This would provide the organizers insights as well identify areas for concern;
e) Tapping members of the community who can serve as Resource Persons or even volunteers for the event;
f) Using social media to reach more people.
g) Linking with other sectors such as health, youth and even with the senior citizens amongst others.
Keeping the fire burning is important after all drug abuse happens everyday. After all, you and me are part of a community. Let us do our share to prevent or reduce drug abuse in our community.