Kuala Lumpur, Malaysia,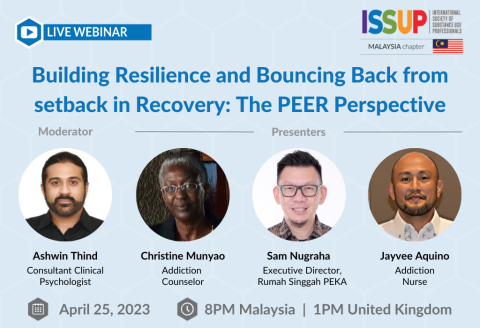 ISSUP Malaysia invite you to their Webinar on Building Resilience and Bouncing Back from setback in Recovery: The PEER Perspective.
The webinar will provide practical strategies and insights to help individuals who may be experiencing setbacks in their recovery journey. It is led by peers who have personal experience in overcoming setbacks and building resilience in their own lives. During the webinar participants will have the opportunity to ask questions.
Time: 8PM Malaysia Time | 1PM UK Time | 3PM Kenya Time | 7PM Indonesia Time
Learning Outcomes:
Participants will gain knowledge and information about the recovery process and gain insights into the nature of the challenge being addressed, as well as tips and strategies for navigating the recovery journey.
Participants in recovery will not feel that recovery is a solitary process as there are sources of support available. The webinar will help participants feel connected with others going through similar experiences.
Participants will learn new skills and strategies that can support their ongoing recovery and personal growth.
Presenter:
Christine Munyao
Addiction Counselor, National DDR Trainer, Higher Diploma in Psychological Counselling and a certificate in addiction counselling. Christine has more than 10 years of experience working in a treatment centre in Nairobi. She played a role in the push for legislation on drugs and the formulation of new drug policies. Christine intends to work in the DDR field to help more people affected by SUD for as long as she can.
Sam Nugraha
Sam has been working in the DDR field for 20 years now starting way back in 2003 when he started his first DDR job with UNAIDS. In 2008 Sam joined UNODC Indonesia, providing technical assistance to the government of Indonesia. He had also worked as Regional Coordinator with ANPUD (Asia Network of People who Use Drugs). In 2015, Sam was awarded the ICAP II credential and he became a national trainer for Indonesia. Sam is also a Global DDR Trainer. He has been a part of the team in the development of the Indonesian Addiction Counselors Competency Standards. In the last 5 years, Sam has been a part of UNODC initiatives on the International Quality Assurance Programme and the Trainer of TREATNET Family intervention in Indonesia. Sam set up Rumah Singgah PEKA, a treatment center for SUDs. This year Sam has embarked on a new initiative: The SMART Recovery Indonesia.
Jayvee Aquino
Jayvee is an addiction nurse and Global DDR Trainer. He is also a certified Recovery Coach. Jaayvee has been a consultant in SUD intervention and community recovery management for the last 15 years. In those 15 years of experience in community recovery management, he had the opportunity to work with different settings in the government,  private agencies and civil societies. He is currently Project Head of the Recovery Oriented Systems and Engagements at the local government level in the Philippines. Jayvee also has work experience in the Reformatory Center in Balay Silangan and in the Outreach and drop in center in Davao Province.
Moderator:
Ashwin Thind
Consultant Clinical Psychologist. Certified Recovery Coach. Global DDR Trainer. Trained in REBT (Primary and Advanced Practicum – Albert Ellis Institute), EMDR Level 1 & Level 2, Ego States, DeTUR (Addiction Specific EMDR Protocol) Cognitive Behavioural Hypnotherapy, Motivational Interviewing. Currently, Ashwin is working with an EB Treatment Centre and does some work with the Therapeutic Community Centre while in his free time, he volunteers at a refugee clinic providing the much needed community.
Webinars and online events delivered and hosted by the International Society of Substance Use Professionals (ISSUP) are provided for informational purposes only. They are educational in nature and do not constitute medical advice, diagnosis or treatment.