Lome, Togo,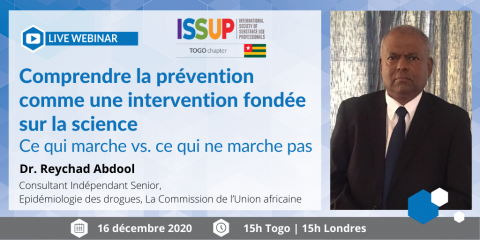 ISSUP Togo invites you to participate in its next webinar on 'Understanding prevention as a science-based intervention'.
Time: 3pm Togo / 6pm Kenya / 3pm Great Britain
Prevention of the use of psychoactive substances, such as a science-based intervention, remains less well known in the majority of sub-Saharan African countries where prevention is simply limited to sessions to raise awareness of the risks and effects of the use of these substances.
Indeed, the use of alcohol and illicit psychoactive substances has increased in the West African region in recent decades with serious consequences for populations in general, adolescents and young people in particular.
Prevention remains the key to reducing the use of these substances and the socio-health associated with them. It is therefore important to change the way prevention is perceived and to share the best knowledge about how it works.
This webinar will help change attitudes about prevention and improve knowledge about science-based prevention and best practices.
After the presentation, participants will be able to:
Improve their knowledge of preventing the use of psychoactive substances in line with international prevention standards;
prepare and mobilize prevention systems and resources to meet the needs of the most vulnerable populations, especially young people;
Share best practices, what works and give up what doesn't work
Dr. Reychad Abdool
Dr. Reychad Abdool, a Mauritian national, is a graduate of Cairo University's Faculty of Medicine and holds a master's degree in public health from Johns Hopkins University in the United States. He has been involved in drug prevention and treatment since 1983 and in the prevention and management of HIV and hepatitis and people who have been injecting drugs since 1988.
Dr Abdool joined the UN Office on Drugs and Crime in 1998 and retired in 2015 as a senior regional drug and HIV advisor in Kenya. He now works as an international consultant for UNODC, the African Union, the Global Fund and with the European Union's MEDISAFE project and Expertise France on falsified and inferior medicines in Africa.