Kyiv, Ukraine,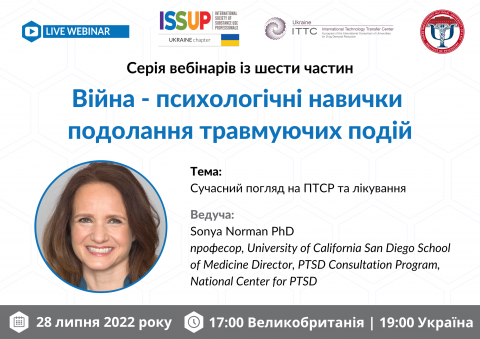 ISSUP Ukraine and ITTC-Ukraine welcome you to a joint initiative dedicated to the ongoing war and the horrific events that resulted from Russian's attack on Ukraine. Ukrainians are currently experiencing extremely traumatic events that will have a direct impact on their mental health for a long time to come. The purpose of these online events is to support professionals in Ukraine, to provide evidence-based available skills of first aid to people of different groups in acute and chronic stress, to teach to recognize conditions that require reference to the specialists.
Webinar 6: War - psychological skills for surviving and coping with traumatic events: Overview of PTSD and PTSD Treatment
Time: 5PM UK Time | 7PM Ukraine Time
Presenter:
Sonya Norman  
PhD, Professor, University of California San Diego School of Medicine Director, PTSD Consultation Program, National Center for PTSD
Interpretation Instructions:
If you would like to listen to the Ukrainian simultaneous interpretation of the meeting, all you need to do is follow these steps:
Download the Interactio app from the Apple Store or Google Play store or access the web app from your laptop Google Chrome Incognito browser at app.interactio.io;
Enter the meeting code ISSUPUkraine;
Plugin your headphones;
Open the App and select the language channel.
A few important details on how to listen to the interpretation:
By phone: The best way is to open the Interactio app and listen to the interpretation on your phone while watching the video meeting through your computer;
By computer: If you want to listen to the interpretation on the same device as the video meeting, you will need to select 'No Audio' in the GoToWebinar Control Panel, and only listen through the Interactio web app at app.interactio.io