Delivering the ISSUP Mission in the Philippines
Shared by Little Jones Espeleta -
9 December 2022
2nd ISSUP Philippines Conference
Originally posted by James -
6 December 2022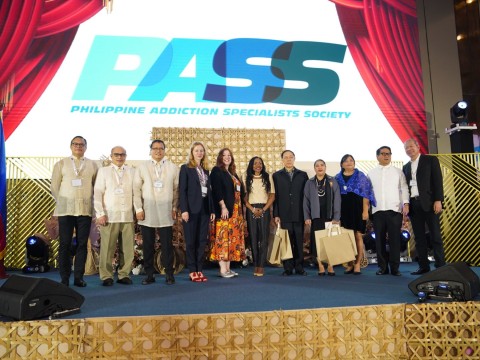 This week we celebrate the 2nd ISSUP Philippines National Conference. Taking place in Quezon City, Manila, the event marks the official launch of the Philippine Addiction Specialists Society (PASS) as the Philippines National Chapter of ISSUP Global.
The Conference provides a discussion forum for selected current issues in substance use disorder management, particularly Alternatives to Incarceration, Global Credentialing, and Local Accreditation.
We spoke to Dr Benjamin Vista, Interim Chair of ISSUP Philippines National Chapter, to learn more about PASS and their vision for drug demand reduction in the Philippines.
Tell us about the Conference theme?
The theme of the event is "Build Better Best: Building unified and synergized communities for the management of substance use". Since the start of the "war on drugs" policy in 2016, there has been a movement by members of the medical profession towards refocusing drug demand reduction efforts towards a more public health approach. Six years later, there is now a window of opportunity to strengthen the momentum of "rising from the rubble" of a war, to build. Not only to build, but to build better, and to be the best that we can be in helping persons with substance use disorders. Thus PASS/ISSUP Philippines is dedicated to building unified and synergized communities for the management of substance abuse, our Conference theme.
The event has a core focus on training and credentialing. What is the current situation nationally? 
Alongside gathering together professionals and delegates from across the Philippines, the Conference is aimed at providing a venue for several Universal Curricula Training tracks (UPC/UTC), which are in high demand amongst providers of care nationally. Aside from formally launching PASS/ISSUP Philippines, the Conference brings focused plenaries on two important topics to the fore: Alternatives to Incarceration and Credentialing and Accreditation. These plenaries are intended to initiate a spirited exchange of ideas which will hopefully lead to jail system decongestion, and provide higher standards of training and education respectively, among others. These discussions shall be carried forward to 2023 and beyond, to alleviate user and provider burdens, and hopefully influence policy for the whole country.
Please tell us a little about the history of PASS - the host of ISSUP Philippines National Chapter?
In 2018, like-minded addiction professionals at the University of the Philippines College of Medicine met, and encouraged the organization of a Philippine Chapter of the International Society of Addiction Medicine (ISAM). The initiative brought together substance use professionals and specialists representing the breadth of addiction medicine service provision, training and research.
By 2020, The Philippine Addiction Specialists Society (PASS) was conceived as an umbrella organization for all clinicians, researchers, academicians, and organizations involved in substance use treatment programs, training, and research in the Philippines.
The Philippine Addiction Specialists Society (PASS) was officially registered as a non-stock, non-profit corporation with the Philippine Securities and Exchange Commission in August 2022. The Philippine Addiction Specialists Society (PASS) was subsequently instituted as the official chapter of ISSUP in the Philippines.
Lastly, please outline PASS's approach to uniting service providers in the Philippines?
PASS is committed to the maintenance and furtherance of all specialized fields of addiction science services in the country. It is geared towards ensuring optimal evidence-based and compassionate care delivery to those who need it. The organization encourages clinically relevant research, governance and the rapid dissemination of new findings. It also aims to develop constructive and harmonious relationships with substance use disorder experts and advocates, and to facilitate discussion and exchange of information among specialists in the field of addiction science. PASS/ISSUP Philippines serves the following communities:
Research Community: We aim to coordinate research activities; facilitate linkages between individuals and groups doing addiction research; encourage and promote ethical addiction science research.
Academic Community: We promote, support, and initiate training programs toward improvement of knowledge and skills for substance use treatment and recovery support in the Philippine setting as well as internationally.
Policy and Governance Community: We advocate for reforms to national laws and provide expertise in aid of legislation relating to drug demand and supply reduction, and the provision of substance use treatment and recovery support.
Services Community: We set standards and guidelines for both pharmacologic and psychosocial treatment and recovery support that are rational, evidence-based, human rights driven and compassionate; promoting linkages between individuals and groups providing services in the field of drug demand reduction.
Our thanks to Dr Ben Vista for kindly providing us with this information. We wish the team at PASS every success in their future work and look forward to bringing you more updates from the Philippines. Please click on the gallery thumbnails below to see images from the Opening Ceremony on 5th December 2022 (Images: Quezon City Government).