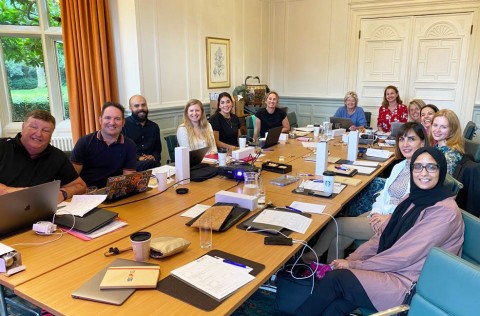 ISSUP staff gathered in London last week for an annual staff meeting at the Warren House Hotel just outside Richmond.
With the final quarter of 2022 fast approaching, we took time to reflect on what we've been up to in the last year, including the hugely successful international event held in Abu Dhabi.
It is always interesting having our staff together in one room sharing ideas and experiences. Over the course of the three-day meeting we enjoyed energetic conversations about communicating our mission, online events, improving the user experience on our website and developing our National Chapter programme.
Planning for in-person events taking place in 2023 and 2024 was top of the agenda and we look forward to bringing you updates on the regional event taking place next year in Argentina.
The meeting provided a space for us to review ISSUP's Code of Ethics and explore plans for establishing a scientific advisory group to guide and strengthen the architecture of our work over the coming years.
Although we have conference calls almost every day of the week, we were excited to have the opportunity to meet in-person for an interesting few days of exploration and discussion. 
We all left with lots of thoughts and ideas for next year's workplan that will help our collaborations with partners, colleagues and members to flourish.