Webinar,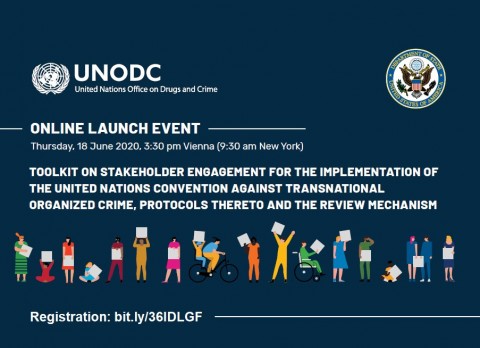 In the context of UNODC Civil Society Team's project "Stakeholder Engagement for the UN Convention against Transnational Organized Crime (UNTOC) - SE4U, its Review Mechanism and related activities," a Needs Assessment Workshop was organized in October 2019 for Non-Governmental Organizations (NGOs), academics, and the private sector, to identify the landscape of relevant stakeholders, their needs and understanding of their role in supporting Member States in the implementation of the UNTOC and its protocols in line with COP-UNTOC resolution 9/1
One of the resulting recommendations was the development of a Toolkit for stakeholder engagement to strengthen the capacity of non-governmental stakeholders on the implementation of the UNTOC.
The Toolkit, which is a collaborative effort of relevant UNODC offices, will serve as a resource for training non-governmental stakeholders with the view to contribute to the implementation of the UNTOC, and prepare them for meaningful participation in the review process. Ultimately, the Toolkit is expected to help non-governmental stakeholders develop strategies for response to transnational organized crime, including how they could best engage with their governments and build cross-cutting partnerships among themselves and with UNODC.
Date: Thursday, 18 June 2020 Time: 3:30pm CET (1:30pm GMT)