Lisbon,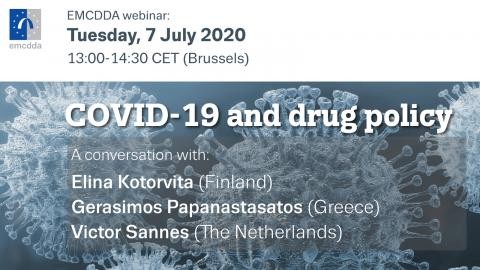 Background: this is the 6th EMCDDA webinar on the Coronavirus. It will be exploring with the help of three experts from Northern, Central, Southern European EU countries (Finland, Greece and The Netherlands) whether the COVID-19 related emergency is having or is going to have any impact on Drugs Policy.
Speakers: Speakers are Horizontal Drugs Group members with policy responsibility is their respective national administration.
Elina Kotorvita, Ministerial Adviser Ministry of Social Affairs and Health, Finland;
Gerasimos Papanastasatos, Office of the National Drug Coordinator of Greece;
Victor Sannes, National Drug Coordinator Deputy Director of Nutrition, Health Protection and Prevention Department Ministry of Health, Welfare and Sport, The Netherlands
Format: EMCDDA Director opening remarks, panelists questions guided discussion, Q&A from attendees.
Questions will be:
Main question 1) Could you describe how the Covid-19 pandemic has affected different aspects of drug policy in your country?
Main question 2) To what extent do you think the changes observed in different aspects of drug policy will remain in place in the medium-term or if the pandemic ends?
Main question 3) How do you think drug problems will evolve in the next year or two?
Date and time: 7 July 12.00-13.30 (WET/Lisbon) 13.00-14.30 (CET/Brussels)