London, United Kingdom,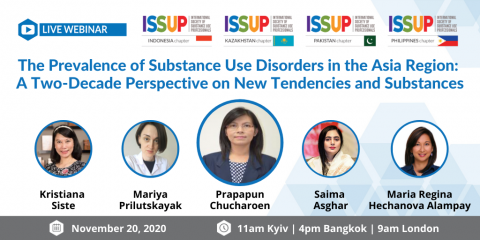 The ISSUP National Chapters in the Asian Region would like to invite you to attend the upcoming collaborative Webinar on the topic of Epidemiology of Substance Use Disorders in the Asian Region.
The Webinar will explore the statistics of SUD in the Asian Region, how the situation has changed over the last 20 years as well as the new tendencies and substances being used. 
Time: 11am - 12:30pm Kyiv / 4pm - 5:30pm Bangkok / 9:00am - 10:30am London
Presentations:
1. "Two Decade ASEAN Drug Use: Drug Monitoring Report" 
Prapapun Chucharoen, Ph.D., Assistant Professor,
Director, Asia-Pacific Regional Collaboration Center of ICUDDR,
Addiction Studies Department, ASEAN Institute for Health Development, Mahidol University, Thailand.
2. "Epidemiology of Substance Use Disorders during and after Covid 19 Pandemic in Indonesia". 
Kristiana Siste, MD, Psychiatris, Ph.D., 
Head of Psychiatry Department, University of Indonesia.
3. "Conundrum or Challenge: New Drug Trends in the Republic of Kazakhstan"
Mariya Prilutskaya, Ph.D., 
Assistant Professor, Semey Medical University
4. "Prevalence of SUD in Pakistan over the past two-decades: New Tendencies and New Substances"
Saima Asghar, 
Social Worker, 
Director ISSUP-Pakistan, 
Executive Director "New Life Rehab Centre, Sialkot-Pakistan"
5. "Drug Use and Community-Based Rehabilitation in the Philippines"
Maria Regina Hechanova Alampay, 
Chief of Party, USAID RenewHealth
6. 
Dr. Alok Agrawal, MD
Assistant Professor, National Drug Dependence Treatment Centre (NDDTC),
AIIMS, New Delhi