Bern, Switzerland,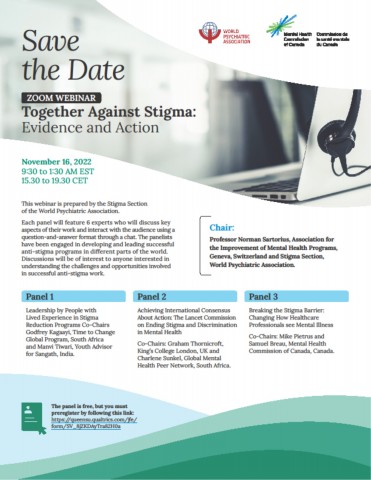 November 16, 2022
9:30 to 13:30 EST (Eastern Standard Time)
15.30 to 19.30 CET (Central European Time)
The Stigma Section of the World Psychiatric Association prepared this webinar.
Each panel will feature six experts who will discuss critical aspects of their work and interact with the audience using a question-and-answer format through a chat. The panelists have been engaged in developing and leading successful anti-stigma programs in different parts of the world. Discussions will appeal to anyone interested in understanding the challenges and opportunities involved in successful anti-stigma work.
Chair: Professor Norman Sartorius, Association for the Improvement of Mental Health Programs, Geneva, Switzerland, and Stigma Section, World Psychiatric Association.
Panel 1

Panel 2

Panel 3

Leadership by People with Lived Experience in Stigma Reduction Programs

 

Co-Chairs: Godfrey Kagaayi, Time to Change Global Program, South Africa, and Manvi Tiwari, Youth Advisor for Sangath, India.

Achieving International Consensus About Action: The Lancet Commission on Ending Stigma and Discrimination in Mental Health

 

Co-Chairs: Graham Thornicroft, King's College London, UK and Charlene Sunkel, Global Mental Health Peer Network, South Africa.

Breaking the Stigma Barrier: Changing How Healthcare Professionals see Mental Illness

 

Co-Chairs: Mike Pietrus and Samuel Breau, Mental Health Commission of Canada, Canada.