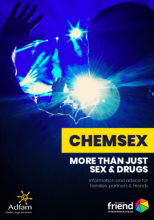 Supporting a friend, partner, or family member affected by problematic alcohol or drug use can be difficult. Adfam has released a new resource to inform and providing advice on how to look after your wellbeing and as well as that of your loved ones.
Chemsex: more than just sex & drugs provides helpful information for the families, friends and LGBT partners of people engaged in chemsex. 
It is an information guide for people who are familiar with chemsex as well as those to whom it is a new concept.
Adfam has developed this resource as part of a pilot in partnership with London Friend, the UK's oldest LGBT health and wellbeing charity, and their drug and alcohol support service, Antidote.