Created by
Health Research Board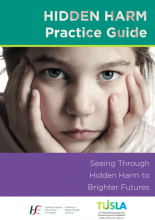 Parental problem alcohol and other drug use are associated with social, legal, economic and health-related problems. It can disrupt family routines and responsibilities, relationships with relatives and friends, and the family's social circumstances and social status.
The Health Research Board has developed a new guide designed to help professionals who are concerned that parental problem alcohol and other drug use is impacting the wellbeing of the children in their care.
The guide also seeks to promote earlier intervention with children and families affected by problem alcohol and other drug use.
The publication contains a number of sections that relate to good evidenced practice guidance for practitioners and provides information on joint working and inter-agency collaboration.