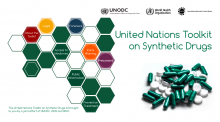 The UN Synthetic Drugs Toolkit is a group of electronic resources carefully put together by organisations such as UNODC, WHO and INCB.
The toolkit offers information on key challenges presented by synthetic drugs, covering topics such as prevention, treatment and rehabilitation.
There are also guidelines and information regarding training and eLearning.
Overall, the toolkit has been designed to be a convenient set of resources that you can access easily and provide you with reliable and evidenced information.