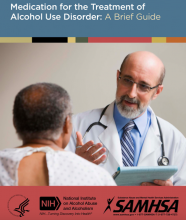 Current evidence shows that medications are underused in the treatment of alcohol use disorder, including alcohol abuse and dependence.
Although many experts in addiction believe that patients with moderate or severe alcohol-related problems should be offered medication-assisted treatment (MAT) on a routine basis, considerable resistance to the use of MAT persists.
To clarify the situation, the National Institute on Alcohol Abuse and Alcoholism (NIAAA) and the Substance Abuse and Mental Health Services Administration (SAMHSA) analysed the evidence on the effectiveness of available medications for the treatment of alcohol use disorders and have developed a guide for the use of medications in clinical practice.
The resource includes information on:
Screening and Assessing Patients
Developing a Treatment Plan and Selecting a Medication
Medication-Assisted Treatment
Monitoring Patient Progress