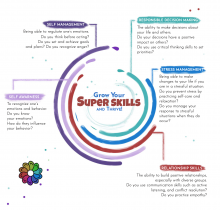 On Saturday, 20 November to celebrate World Children's Day, UNODC is launching Listen First: Science of Skills.
The new materials, Science of Skills, feature four animated characters with 'super skills' that correlate to social and emotional learning.  The characters solve problems, help others and develop skills such as decision-making, stress management, planning and goal setting and communication, in five short videos.  Each video is supported by two Science Sheets, highlighting competencies that help children to grow healthy and safe.
Super Skills promotes social and emotional learning as a foundation for science-based substance use prevention in early adolescents.
Filmed in Skilltown 3D – the magical place where anything can happen and every young person can learn what really matters!
The trailer for the first video, Being Special, can be viewed here.
Super Skills Resources