Emergency Resource List
Submitted by Edie -
26 March 2022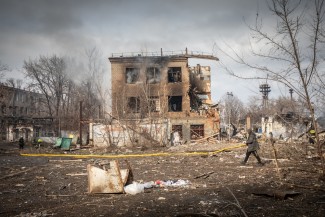 The thoughts of the whole ISSUP network are with staff, colleagues and friends in Ukraine during this time. Here, you can find a selection of resources designed to support people who are in the midst of an emergency. The resources offer practical guidance and information on psychological first aid and emotional support.
1) This guide, developed by the World Health Organisation, explores psychological first aid to reduce suffering during serious crisis events. It is written for people in a position to help others who have experienced an extremely distressing event.
2) The Alternative Care in Emergencies (ACE) Toolkit is designed to support interagency planning and implementation of alternative care and related services for children separated from or unable to live with their families during and after an emergency.
3) Therapists for Ukraine have come together to offer free online counselling for any person directly affected by the war in Ukraine. The counsellors listed commit to a minimum of four sessions and will - based on your situation and needs - decide the number of sessions individually.
4) This document is a tip sheet to be distributed by Child Protection coordination teams. It offers tips on how to support kids during times of threat. The sheet offers general tips to help support young people, reduce stress and stay safe. It is available in English and Ukrainian.
5) This document, entitled Mental Health and Psychosocial Support in Humanitarian Emergencies, is for protection programme managers working in low and middle income countries. Managers are encouraged to promote the guidelines to colleagues from other disciplines to ensure that there is appropriate action to address the social risk factors affecting mental health and psychosocial well-being. It is available in English and Ukrainian.
6) The UNHCR's Emergency Handbook is a reference tool that serves to reinforce a common understanding among the many key people involved in emergency situations. The Handbook stresses the need to understand, from the very outset of an emergency, the protection risks facing different members of a community and describes how to conduct participatory assessments with women, girls, boys and men to ensure adequate assistance and protection for all.
7) Doing What Matters in Times of Stress is a WHO stress management guide for coping with adversity. This illustrated guide supports implementation of WHO's recommendation for stress management. This guide is for anyone who experiences stress, ranging from parents and other carers to health professionals working in dangerous situations. 
8) This document provides guidance for UNHCR staff and partners on protecting the rights of older persons in situations of forced displacement or statelessness.