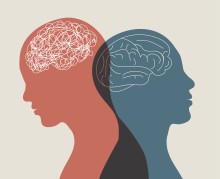 Mental health and substance use issues are commonly linked, and it is important that practitioners are skilled and knowledgeable in identifying and working with the potential challenges an individual may be facing. For World Mental Health Day, ISSUP UK, ISSUP Pakistan and ISSUP Indonesia collaborated on a presentation addressing the issues that practitioners can face when reaching out and working with people with substance use and mental health problems. This reading list offers further information and resources on the topic.
1) Drug and Alcohol Findings have published a hot topic that explores in depth the complex issue of 'dual diagnosis'. It provides different models and definitions for understanding an issue that can be challenging for treatment services.
2) This paper, published by the Northern Ireland Assembly, provides an overview of dual diagnosis, estimated prevalence rates and information about the impact on people's lives.
3) United Nations Office on Drugs and Crime, in collaboration with the World Health Organization, have put together a discussion paper that examines the evidence relating to comorbid substance use and physical and mental health issues and highlights key policies and best practice.
4) Here you can find a webpage that has been put together by the European Monitoring Centre for Drugs and Drug Addiction (EMCDDA) that provides an overview of the topic of comorbidity of mental health and substance use disorders.
5) In this briefing, entitled Multiple disadvantages and co-occurring substance use and mental health conditions, the authors discuss the prevalence of co-occurring conditions, guidelines in supporting people with co-occurring conditions and barriers and enablers when people are trying to access appropriate support.
6) This article, published in the journal of psychiatric and mental health nursing, explores the dual diagnosis narrative by questioning what is known on the subject and reflecting on how our understanding can have implications for our practice.
7) NIDA have published a report and accompanying infographic that explains the term and issues relating to "comorbidity".
8) This brief, published by CCSA, is intended to assist those who are developing integrated systems of care for people with substance use and mental health issues. The publication provides a framework for improving the accessibility, quality and range of services and support.