Pediatric Cannabis Poisoning Stakeholder Toolkit Cannabis
Submitted by Rasha Abi Hana -
6 September 2023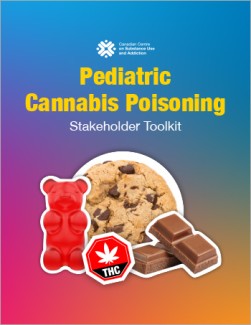 Recent research has revealed an increase in child hospitalisations resulting from accidental cannabis poisoning in various regions of Canada. Toddlers find cannabis edibles enticing due to their resemblance to common treats like candies, chocolates, or baked goods. Incidents of cannabis poisoning predominantly occur within households. It is imperative to emphasise the potential harm cannabis products can pose to children and the necessity of secure storage.
The Canadian Centre on Substance Use and Addiction (CCSA) initiated a public awareness campaign through its social media platforms. We shared a Pediatric Cannabis Poisoning Stakeholder Toolkit with you today. The aim is to collaborate in safeguarding children by enhancing awareness of pediatric cannabis poisoning.
This toolkit comprises essential facts, social media visuals, and messaging designed to underscore the significance of securely storing cannabis edibles, just as we do with other hazardous household items.