Buenos Aires, Argentina,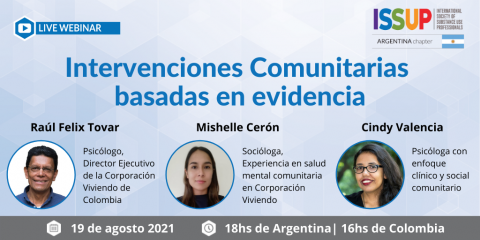 ISSUP Argentina invites you to participate in a webinar on evidence-based community interventions.
The webinar will take place on Thursday, August 19, 2021 at 6:00 p.m. (Argentina Time).
August 19, 2021, 18:00 - 19:00 hrs (Argentina time)
The webinar provides a conceptual framework, assessments and experiences of the community approach to evidence-based interventions in Colombia.
Speaker: Raúl Felix Tovar
Psychologist, experience in project management and evaluation, research alternatives in social sciences and community psychology. Experience in prevention, reduction of risks and damages and community treatment in proposals for the consumption of psychoactive substances, university professor.
He is currently Executive Director of the Living Corporation of Colombia, part of the National Collegiate Board of Directors of RAISSS Colombia and of the Communications Commission of RAISSS Latin America. In 2015 he received the Recognition of Lifetime Work in Mental Health of the Municipality of Santiago de Cali from the Municipal Public Health Secretariat of Santiago de Cali (Valle del Cauca – Colombia)
Exhibitor: Mishelle Cerón
sociologist. Experience in Formulation and execution of social and community intervention projects, community mental health in Corporacoón Vivir. Specialist in communication strategies in social and human rights processes.
Exhibitor: Cindy Valencia
Psychologist with a clinical and social community approach. Experience in psychosocial intervention in educational contexts and with communities in a situation of vulnerability. He has training and experience in community treatment to overcome situations of associated social suffering
When using problematic substances.