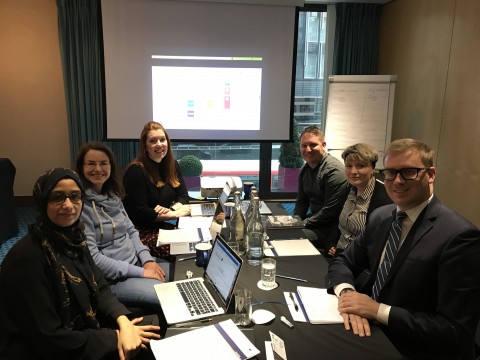 At the start of February the ISSUP team met to discuss new plans for the website and welcome a new member of staff, Kira Weir, who has joined the team as Content Researcher.
Joined by Andrew Thompson from the U.S. Department of State's Bureau of International Narcotics and Law Enforcement Affairs (INL) it was a great opportunity to look forward to the new features and functionality that ISSUP will be able to offer members and visitors to the site.
Having Andrew at the meeting allowed the team to chat about future plans for streamlining the connection between ISSUP member accounts and the International Center for Credentialing and Education of Addiction Professionals (ICCE) accounts. This would allow a link between any training completed in the Universal Prevention Curriculum (UPC) and Universal Treatment Curriculum (UTC) programmes. (You can find out more about these curricula here.) This will be a really useful development for members who will then be able to keep track of all of their professional activities linked to ICCE and ISSUP in one place. 
There was also the opportunity to discuss how the ISSUP website might become even more welcoming and accessible to international professionals and researchers. In the next phase of development of the website a new translation functionality will be added. This will allow information to be shared with wider audiences and for lively discussions to take place in non-English languages. This is a great development which will hopefully inspire international collaboration and relationships. As we become ever more connected the barrier to global science that language can create is becoming an ever more pertinent issue, so the role ISSUP can play in breaking this down is fantastic. 
One of the other exciting new aspects which will be developed is the way in which ISSUP members will be able to interact - with the knowledge and information shared on the site - and also with each other. The web development team is working on enhanced membership profiles which will allow you to connect with other professionals, form groups and join networks. There will also be a more personalised 'dashboard' so that you are getting the most relevant information and saved content when you log in as a member. We expect there to be a new buzz around the ISSUP site by the end of the year with amazing conversations being sparked and new ideas formed. 
We hope that you are excited about the future of ISSUP and how the organisation and website can grow. 
You can find out more information about membership here.