It is our pleasure to invite you to a series of live online events on the topic of Tobacco Use. The webinar series will be held throughout May, with the final event marking World No Tobacco Day on the 31st of May 2021.

Smoking and all forms of tobacco use are major public health issues. Tobacco use and dependence is the world's single biggest cause of preventable death and noncommunicable disease. Up to half of all smokers will die from tobacco-related illnesses such as cancer or lung and heart disease; an estimated 8 million people each year according to WHO estimates.

Globally, 942 million men and 175 million women aged 15 or older are current smokers, with particularly high prevalence in the Asia region.

The webinars will greatly increase your knowledge of issues around smoking, nicotine dependence, and the types and substances used, with a view to treatment and the prevention of smoking behaviour in young people.

See details for each event below and follow the links to register.
Webinar 1: Tobacco Use - Pleasure or Harm?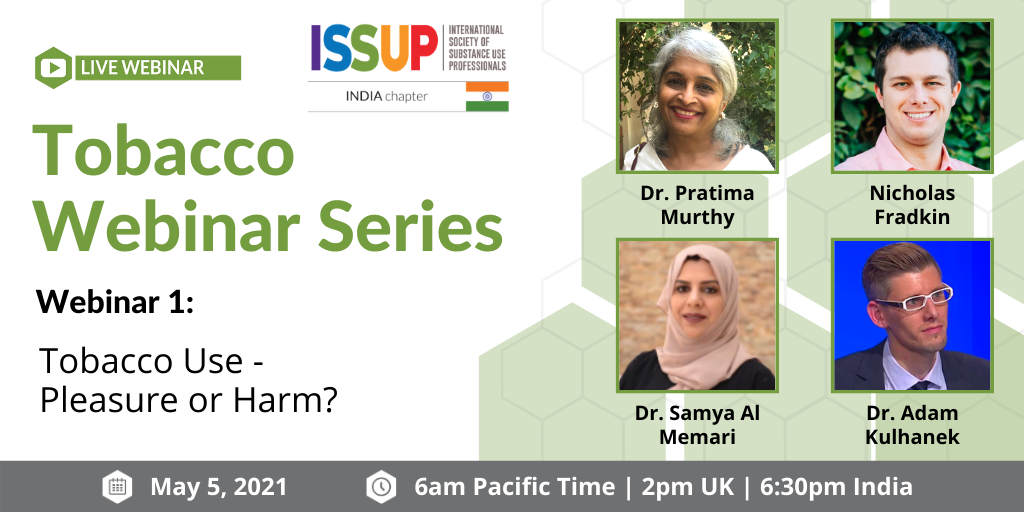 Date: 5 May 2021
Time: 6am Pacific Time / 2pm UK Time / 6:30pm India Time
Join the first session for presentations on tobacco and nicotine addiction, treatment of dependence as a behavioural and public health imperative, smoking patterns and attitudes of patients in treatment in Abu Dhabi, and the management of smoke-free detoxification units.
Information | Register
Webinar 2: New Electronic Smoking Devices - What's the Difference?
Date: 19 May 2021
Time: 6am Pacific Time / 2pm UK Time / 9pm Philippines Time
In the second session our guest speakers will discuss new electronic smoking devices. We will be looking at what the scientific evidence tells us about electronic cigarettes, health risks and potential harms of e-cigarettes, and policy recommendations.
Information | Register
Webinar 3: Tobacco Smoking Addiction: From Prevention to Treatment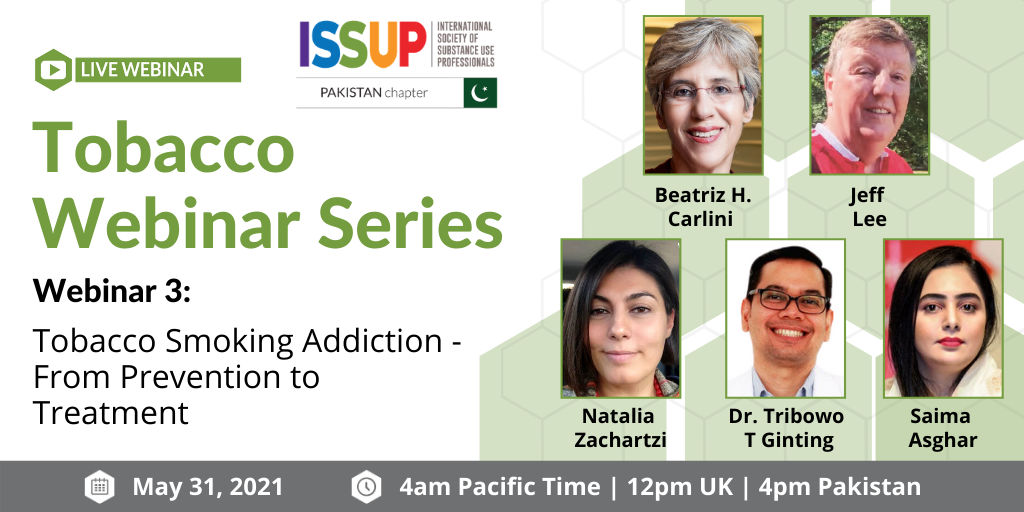 Date: 31 May 2021
Time: 4am Pacific Time / 12pm UK Time / 4pm Pakistan Time
Join our guest speakers on World No Tobacco Day 2021 for a look at best practices in tobacco cessation, prevention of smoking behaviour, prevention in children, treatment, and tobacco use trends in Pakistan.
Information | Register
All participants are asked to register electronically.
There is no registration fee for participants.
Certificates of participation available
We look forward to welcoming you to the events.