Stirling, United Kingdom,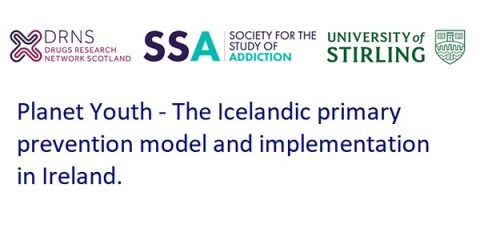 About this Event
DRNS and Salvation Army Centre for Addiction Services and Research are delighted to host this event to share learning on the implementation of Planet Youth in Ireland. Emmet Major is coordinating the Planet Youth programme in the west of Ireland and will share his experiences of the programme, with implications for Scottish research, policy and practice.
Session overview
In the 1990s, Iceland had very high rates of young people using drugs, alcohol and tobacco. The Youth in Iceland Model (now Planet Youth) was introduced, a community-based approach which aims to reduce risk factors and improve protective factors and rates of substance use have subsequently decreased. Planet Youth has since implemented in more than 30 countries worldwide. In this seminar, Emmet Major, Community Worker with the Western Region Drug and Alcohol Task Force and the Coordinator for the Planet Youth programme in the West of Ireland, will be giving an overview of Planet Youth in Ireland and explain how it is being implemented in three sites in the West of Ireland covering a population of 450,000 people.