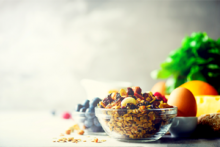 It is not uncommon for individuals with substance use disorder (SUD) to experience conditions which make healthy eating and proper nutrition more challenging.
One of the widely overlooked health effects of addiction is deficiencies of key vitamins and nutrients. Research shows that chronic substance use can interact with and change brain chemistry. Some of these brain alterations can cause unhealthy eating patterns and impair the metabolic absorption of nutrients, leading to deficiencies and a broad spectrum of negative health outcomes in affected individuals.
Additionally, depending on individual circumstances, people with SUD can be challenged with food insecurity and the inability to obtain healthy food on a day-to-day basis. This is often compounded by infrequent eating due to diminished interest in food and appetite suppression from increased dopamine levels.
The list below contains a selection of resources on the role of diet and proper nutrition in promoting recovery that we hope will provide readers with a foundation for learning and further exploration of the subject. The list also includes scientific articles on nutrition that treatment and recovery professionals can use as reference works.
We thank Khary Rigg, Ph.D. and Kelly Miller, NTMC for providing us with references for this list. Read their article on Using nutrition to promote addiction recovery for an excellent introduction to the subject.