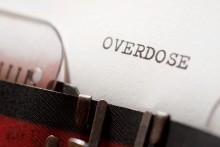 According to the World Health Organisation, around half a million deaths each year are attributable to drug use. More than 70% of these deaths are related to opioids, with more than 30% of those deaths caused by overdose. Signs, symptoms, and management of an overdose differ depending on the situation and substance used. Below, is a list of research, publications, and tools on the subject of overdose recognition and management. You can find additional articles on overdose through the ISSUP Knowledge Share.
1. The International Overdose Awareness Day is a global event held on 31 August each year. Here, you can find out more about the worldwide awareness campaign. The website includes facts, videos, an overview of overdoses, and campaign resources.
2. The World Health Organisation has put together an information page on opioid overdose. The website includes an overview of opioids, information on opioid overdose, emergency responses and prevention of opioid overdose and WHO response and recommendations.
3. This EMCDDA publication provides an update on drug-related deaths in Europe, presenting and analysing the latest data and trends in drug-induced deaths and overall mortality among high-risk drug users in the European Union and beyond. You can also read through the new EMCDDA FAQ page on drug overdose deaths in Europe.
4. There has been an increase in research examining the social structure of opioid use. This special edition of Drug and Alcohol Dependence includes articles that are designed to inform effective prevention strategies to reduce opioid use disorder (OUD) and overdose deaths.
5. Naloxone is an opioid antagonist that can be used to reverse opioid overdose. This seminar, hosted by the National Drug and Alcohol Research Centre (NDARC), provides information on how to identify and respond to an opioid overdose, particularly focusing on how to administer Nyxoid Naloxone nasal spray.
6. Here, you can find the conference recordings of specialists from around the world speaking about issues relating to substance use overdose.
7. The Improving Outcomes in the Treatment of Opioid Dependence (IOTOD) Take-Home Naloxone Toolkit contains guidance and resources on how to set up a take-home naloxone programme, in order to reduce overdoses and save lives.
8. The 'Stop Overdose Safely' is a joint initiative from UNODC and the World Health Organization (WHO) to address opioid overdose and provide life-saving medications to those in need. This report provides an overview of and rationale for the S-O-S initiative and details the outcome of implementation in Kazakhstan, Kyrgyzstan, Tajikistan and Ukraine.
9. This article, published in the Lancet Public Health, provides an overview of overlapping social factors that influence the risk of a non-fatal drug overdose. The authors conclude by providing suggestions of measures that can be improved in order to decrease the number of non-fatal drug overdoses.