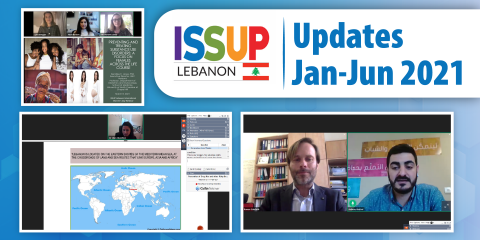 On February 2021, ISSUP Lebanon hosted its first webinar of the year entitled, 'Prevention of Drug Use and Other Risky Behaviours in Youth: From Evidence to Policy and Programs', with Lilian Ghandour, Associate Professor of Epidemiology at the American University of Beirut on substance use epidemiology and evidence-based prevention programs. The webinar had 456 attendees and discussed the importance of adopting a public health approach to substance use prevention, and to using epidemiological data for the planning and evaluation of all programs and interventions aimed at preventing or reducing substance use. The presentation described the public health approach to addressing public health problems such as youth substance use, the role of epidemiological data in the planning, implementation and evaluation of substance use prevention in youth and the components of successful youth substance use prevention programs/interventions.
On the occasion of International Women's Day on March 8, ISSUP Lebanon hosted a webinar on treatment and prevention of substance use disorders among females across the life span with Dr Hendrée Jones, Executive Director at UNC Horizons. The webinar had over 650 attendees and Dr Jones presented information about the prevention and treatment of substance use and use disorders among females from the different life stages of child, adolescent, childbearing age and older adulthood. In addition, the universal themes of compassionate whole person care, use person-first language, ways to support recovery and empathy were discussed.
Moreover, ISSUP Lebanon scheduled a webinar in March with Dr Roman Gabrhelik, Associate Professor and Head of Research & Development, Department of Addictology at Charles University in Prague. The webinar focused on prevention and treatment of addictive behaviours during COVID-19 pandemic. The types of risky behaviours, related risks, and actions of the target groups that may have been affected by the COVID-19 pandemic were outlined. Dr Roman also discussed the steps needed to be taken post the COVID-19 crisis in the target groups. The webinar was attended by 480 individuals from 86 different countries.
Finally, Michal Miovsky, Professor of Clinical Psychology and Head Department of Addictology of the first Medical Faculty at Charles University, Prague, joined ISSUP Lebanon on a webinar on quality in school substance use prevention. The webinar was attended by 398 individuals who learned how to understand the key concepts in quality control and quality in school prevention, how to adopt international standards and what is possible to develop in this area.