Pretoria, South Africa,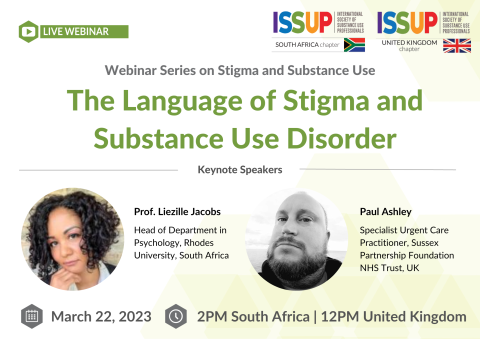 ISSUP would like to invite you to the First Session in the Webinar Series on Stigma and Substance Use. This Series has been organised as a collaboration between ISSUP South Africa, ISSUP Nigeria, ISSUP Kenya and ISSUP UK. The First Session in the Series will be hosted by ISSUP South Africa, with support from ISSUP UK, on the topic of 'The Language of Stigma and Substance Use Disorder'.
Time: 2PM - 3:30PM South Africa | 12PM - 1:30PM UK
Learning Outcome:
Reviewing interventions on destigmatising people who live with SUD through the language we use as professionals.
Presentations:
'Perpetuating stigma: Why "Women Who Drink Are Low Class Citizens" is the wrong message'
Prof. Liezille Jacobs, Head of Department in Psychology, Rhodes University, South Africa
Understanding the Stigma of Alcohol Substance Use Disorder through a Gender Lens.
How women become Secret drinkers because of the language associated with stigma.
Discourse of Marginalisation and Disempowerment because of stigmatisation.
'Pilot Scheme Observations: Substance Misuse Specialist in Mental Health Urgent Care Services'
Paul Ashley, Specialist Urgent Care Practitioner, Sussex Partnership Foundation NHS Trust, UK
Brief outline of what took place during the pilot
Discussion around stigma & prejudice and observations during this pilot
Lived Experience Videos
Webinars and online events delivered and hosted by the International Society of Substance Use Professionals (ISSUP) are provided for informational purposes only. They are educational in nature and do not constitute medical advice, diagnosis or treatment.