Johannesburg, South Africa,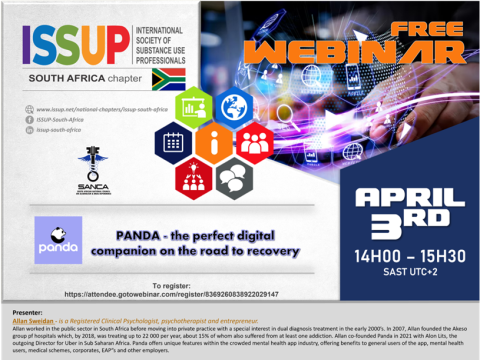 ISSUP South Africa would like to invite you to their Webinar on Panda - The perfect digital companion on the road to recovery.
Time: 2PM - 3:30PM South Africa | 1PM - 2:30PM United Kingdom
This webinar will discuss how technology can enable access to mental health care and support, specifically through the Panda app. During the months of the pandemic, many support forums moved to online or hybrid meeting platforms. Panda is an app that specialises in mental health support. Keeping in mind the nature of addictions, dual diagnoses, the importance of support and holistic approaches to sobriety or harm reduction, this Panda is perfectly placed to augment current care models.  
Learning Outcome:
How technology can enable ongoing care and easy access to individual, group and community care and support.
Presenter: Allan Sweidan
Allan Sweidan is a Registered Clinical Psychologist, psychotherapist and entrepreneur. Allan worked in the public sector in South Africa before moving into private practice with a special interest in dual diagnosis treatment in the early 2000's. In 2007, Allan founded the Akeso group pf hospitals which, by 2018, was treating up to 22 000 per year, about 15% of whom also suffered from at least one addiction. Allan co-founded Panda in 2021 with Alon Lits, the outgoing Director for Uber in Sub Saharan Africa. Panda offers unique features within the crowded mental health app industry, offering benefits to general users of the app, mental health users, medical schemes, corporates, EAP"s and other employers. 
Webinars and online events delivered and hosted by the International Society of Substance Use Professionals (ISSUP) are provided for informational purposes only. They are educational in nature and do not constitute medical advice, diagnosis or treatment.