Online,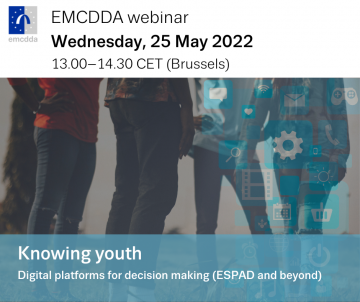 Objective: The main objective of this webinar is to explore and better understand the potential use of youth survey data in policy and prevention planning in a digital world.
Background: With 2022 being the European year of youth, this webinar acts as a timely examination on studies which are specifically focused on young people and adolescents. Such studies can provide valuable clues about the personal, cultural and social norms that may (or may not) affect substance use and how they this knowledge can be used to help guiding or improving interventions and policies for European adolescents. Digital platforms and virtual reality interventions are becoming ever more widely used and are of growing importance in a globalised and interconnected world.
This webinar will also be the perfect setting to launch the new ESPAD (European School Survey Project on Alcohol and Other Drugs) data explorer tool, allowing access to over 20 years of ESPAD data on substance use among 15-16-year-old students. ESPAD is the largest cross-national research project on adolescent substance use in the world, bringing together independent research teams in over 40 European countries.
Speakers:
Sabrina Molinaro, ESPAD Coordinator, National Research Council, Italy.
Margarida Gaspar de Matos, Professor Instituto de Saúde Ambiental, Faculdade de Medicina, University of Lisbon, Portugal.
Stefanie Helmer, Researcher Evidence-Based Public Health, Uni Bremen, Germany.
Christiane Stock, Professor in Public Health and Health Education, Charité Berlin, Germany.