Substance Use Among Adolescents: Risk and Protective Factors
Submitted by Rasha Abi Hana -
3 December 2021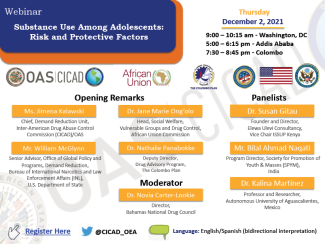 On December 2nd, CICAD's Demand Reduction Unit organised an online event on "Substance Use Among Adolescents: Risk and Protective Factors". The event is part of a series of international dialogues between Africa, Asia, Latin America and the Caribbean. 
This webinar provided attendees with information about:
Scenarios of drug use among children and adolescent
Adolescent stressors'
Role of family and peers 
Recurrent risk factors and protective factors
At the end of the webinar, a session for Q&A and discussion was held.