Nur-Sultan, Kazakhstan,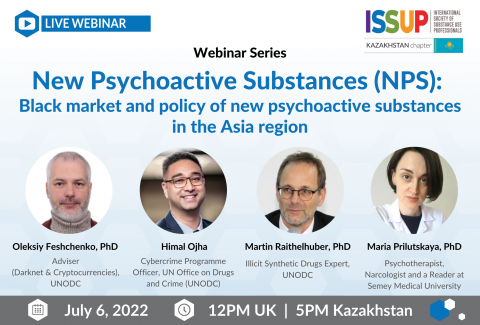 Various NPS have significantly changed the picture of drug use in different countries. They are now very prominent in the drug market. Indeed, many of these substances are intended to circumvent drug laws and are sold as 'legal' replacements for cannabis, heroin, cocaine, amphetamines, MDMA and benzodiazepines.
To increase their availability and attractiveness, they are marketed as "legal highs", "research chemicals", and "food supplements". However the reality is that NPS are highly linked to physical and mental health harms, including fatal poisoning and the spread of drug-related infections.
The webinars highlight this emerging issue in many societies. Experienced professionals will provide updates on the types of NPS being used, their mechanisms of action, modes of use, intended intoxicant effects, associated physical and mental health harms, and will give recommendations on their management and prevention related responses.
Webinar 3: New Psychoactive Substances (NPS): Black market and policy of new psychoactive substances in the Asia region
Time: 12PM UK / 5PM Kazakhstan
The final webinar covers the availability of various synthetic substances in the regional Asian market, the major trends of some countries and emerging concerns of the recent years.  We will discuss how countries regulate their policy in response to these new drug market developments and consider what new innovative legal responses governments can introduce. 
Presentations:
'Use of darknet and cryptocurrencies for online drug trade'
Oleksiy Feshchenko, PhD, Adviser (Darknet & Cryptocurrencies), Cybercrime and Anti-Money Laundering Section Organized Crime and Illicit Trafficking Branch Division for Treaty Affairs, United Nations Office on Drugs and Crime (UNODC)
Himal Ojha
'Global Synthetics Monitoring: Analysis, Reporting and Trends (SMART) Programme'
Martin Raithelhuber, PhD, Illicity Synthetic Drugs Expert at United Nations Office on Drugs and Crime
'New Psychoactive Drug Trends in Kazakhstan: Results of the Epidemiologic Global Fund Project'
Maria Prilutskaya, PhD, Psychotherapist, Narcologist and a reader at Semey Medical University
Listen to Russian Interpretation:
If you would like to listen to the Russian simultaneous interpretation of the meeting, all you need to do is follow these steps:
Download the Interactio app from the Apple Store or Google Play store or access the web app from your laptop Google Chrome Incognito browser at app.interactio.io;
Enter the meeting code ISSUPNPS
Plugin your headphones;
Open the App and select the language channel.
A few important details on how to listen to the interpretation:
By phone: The best way is to open the Interactio app and listen to the interpretation on your phone while watching the video meeting through your computer;
By computer: If you want to listen to the interpretation on the same device as the video meeting, you will need to select 'No Audio' in the GoToWebinar Control Panel, and only listen through the Interactio web app at app.interactio.io